Landlord Property Management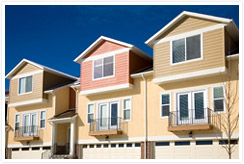 The FutureLaw team brings a wealth of expertise to the area of Landlord Property Management representation. FutureLaw has significant experience in landlord-tenant and fair housing laws, and in representing landlords and property managers with housing issues. The FutureLaw property management team has a full array of legal skills under one roof, including providing advice on a wide range of property management and landlord-tenant issues, drafting leases and other forms, working with clients on telecommunications and on-line issues, and defending and resolving state and federal Fair Housing and Real Estate Board claims.
For more information on FutureLaw's property management services and team, please visit www.virginiapmlaw.com, or utilize the specific links below:
For a list of our services, visit our Property Management Services page.
Please visit our Resources page to access other helpful resources.
To learn more about our attorneys and consultants, please Contact Us.
Members of our Landlord Property Management Team include Barrie Bowers and Ann Mink. Barrie Bowers is the Director of the Landlord Property Management Team.
Contact FutureLaw to explore how we can help you with your Landlord or Property Management needs.